Message from the President
Message from the President
Message from the President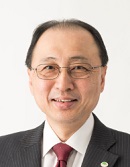 The enormous wave of digitalization and globalization lies ahead°°with new issues
including geopolitical risk, advancement of new technologies (AI, robots, automated operation, biotechnology, etc.).
As the necessity of reconsidering IP strategies between competition and collaboration (closed and open) continues to grow, the importance of and expectations towards JIPA are ever-increasing.
JIPA strive to clarify and resolve modern IP issues from a global perspective and will lead the world in the research and discussions of the future IP systems and government policies.
In doing so, we identify current IP activities (As-is) and then we will visualize data-driven society in the near-future (To-be) so as to delve deep into defining an ideal IP systems and policies.
On that basis, we accelerate discussions and proposals from both independent and commercial perspectives.
JIPA will be able to offer a platform to create new values and proposals by incorporating ideas and discoveries through communications among JIPA executive members.
We have strength of co-creation and synergy between members from various business sectors working hard and participating in Expert Committees and Policy Projects.
IP is a valuable source that can create new corporate values and transform Japan°«s critical situations into opportunities.
We will challenge ourselves with JIPA activities, while keeping in mind our IP vision of °»driving new values and proposals with IP.°…
July 2019
Yuji Toda, President 2019